Feedback Widget: Definitions, Use-cases, and 5+ Best Tools
The key to building great products is User Feedback, without which you'll make something your users may never use. Here are some great feedback widgets to help you collect feedback to build great products.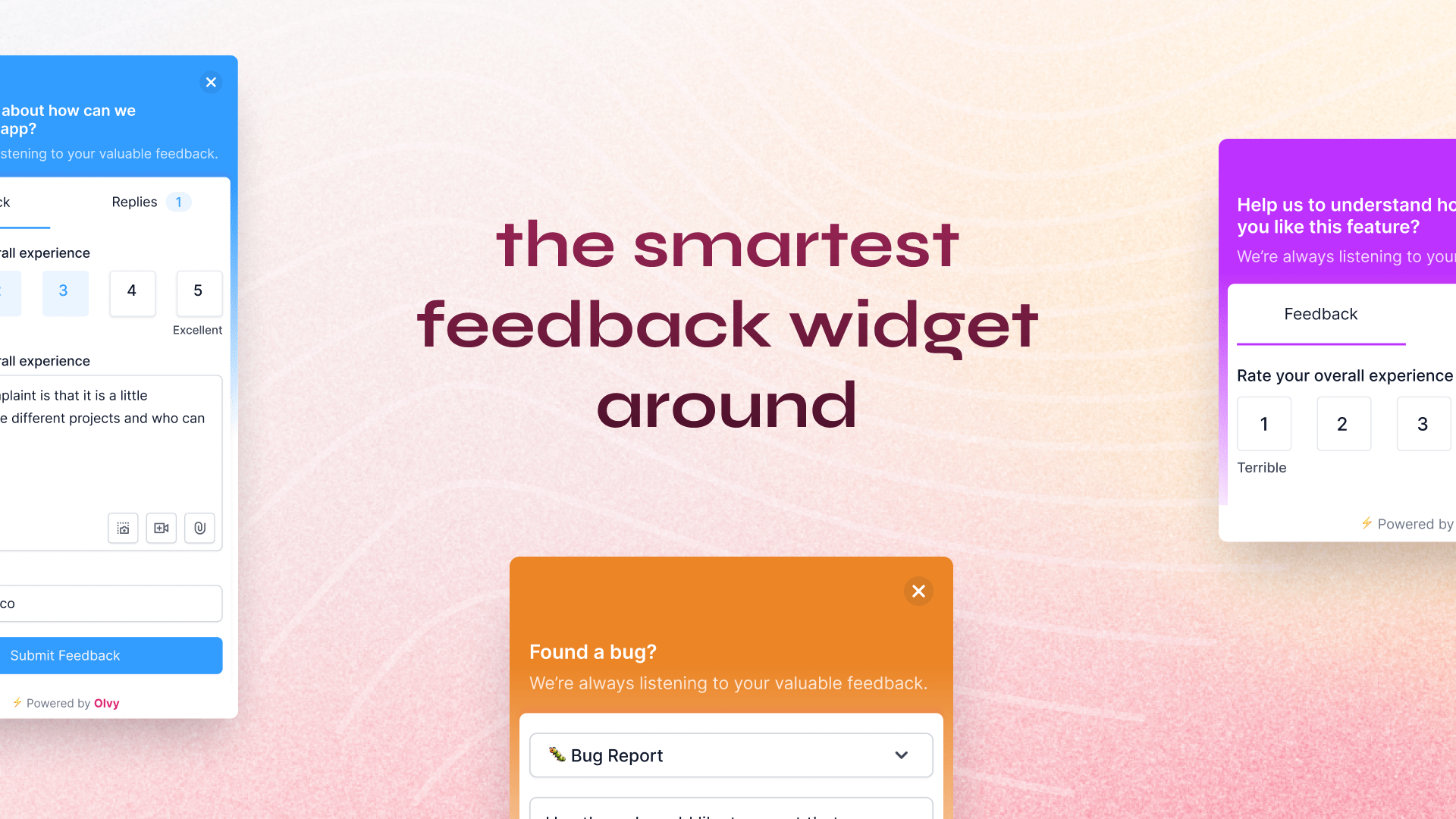 The key to building great products is User Feedback, without which you'll make something your users may never use.
As a company that builds the whole product around user feedback, we take it seriously and build tools, widgets, and features that help you stay close to your users and always listen to what they've been saying.
One of the easiest ways to achieve this is by adding a user feedback widget to your website and app. This way, your users can directly submit feedback, issues, bugs, and requests without leaving your site.
You can do all this with a live chat tool like Crisp and Intercom, but you need to understand that there are more reliable sources than that, and user feedback can get lost among support requests. It is another reason we have a native integration with tools like Crisp and Intercom, so you can directly push them to a feedback store to analyze them.
In this blog, we'll share everything about the Feedback widget you should know, along with 5+ feedback widget tools. Let's get started.
Table of Content
What is a Feedback Widget?
In general terms, it's an embeddable widget that you can add to your website or app and is dedicated to collecting and storing user feedback that you or someone responsible can look at and analyze.
PS: At Olvy, we take care of the analysis and give you output in the form of feedback summary, sentiment analysis, and the most mentioned keywords.
What are the Use Cases of a Feedback Widget?
There are hundreds of use cases for a feedback widget, but let me walk you through the most vital and popular ones, which you can start using immediately.
Collect User Feedback: The most basic use case of a feedback widget would be to use it in its basic form and let the user submit feedback there.
Report Bugs: Some feedback widgets like ours allow users to take screenshots of the webpage and markup places in the screenshot or screen recording, which can be shared directly from the widget to report bugs as well as give feedback or share ideas.
In-app Survey: Feedback widgets are also an efficient way of letting the user participate in micro surveys, which you can use for various purposes.
Rating Widget: You can also use a feedback widget like ours as a simple rating widget where the user can respond to your question with a simple 1-5 rating.
What are the Benefits of a Feedback Widget?
A feedback widget comes with several benefits. Here are some that you'll love:
Allow your users easily submit feedback.
Let you stay close to your users.
Help you understand if they love what you've been building.
Know what they want.
A good and straightforward source to report bugs.
Easily track and calculate user satisfaction and Net Promoter Score (NPS).
These are just a few benefits you'll get after adding a feedback widget, but you will experience many more benefits.
Some Important Features a Feedback Widget Should Have
Feedback widget is vital for your business, and you should always research extensively before choosing the best one.
You should ensure that your feedback widget at least has the below-mentioned features.
Customizable
Anything on your website or app should align with your brand design and not look out of context. That's why your feedback widget should let you change and modify it by changing things like text, colors, and other visual elements.
Dark Mode
Technically this is an extension of what we talked about in the "customizable" section but this deserves separate attention as not having this feature might hamper the user experience.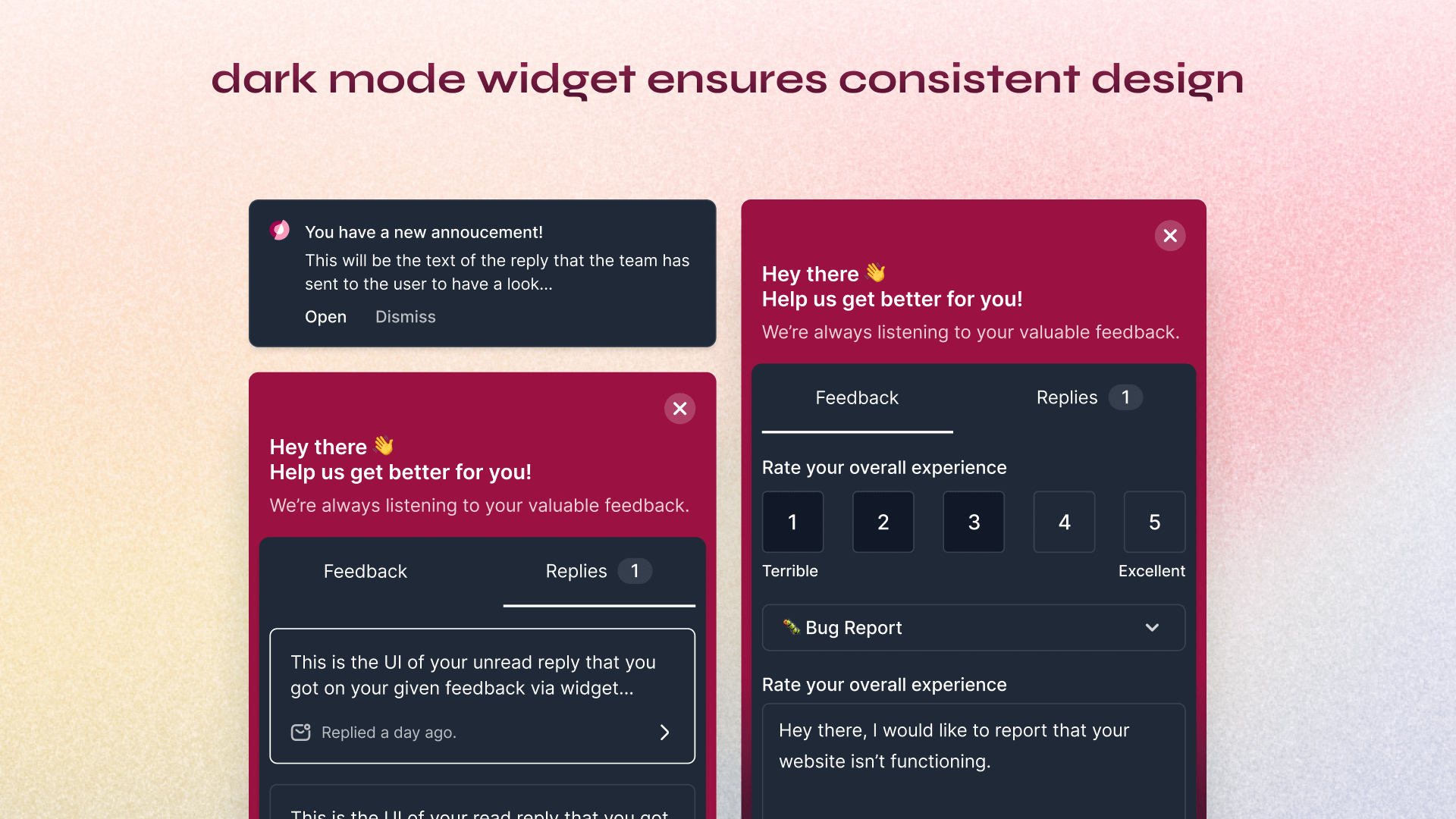 Only a few feedback widgets have this feature, even though it's pretty basic. If you are looking for a feedback widget with support for dynamic dark mode (auto-switch), then you should look at our feedback widget.
Custom CSS
Another extension for the "customizable" feedback widget is the ability to have custom CSS. Some people would want even more customization, and to support this demand and creativity, the feedback widget should have the option to allow for custom CSS.
No-code
Only a few people are comfortable with code, so the feedback widget you choose should be easy to create and add to your website.
For example, to use Olvy's Feedback Widget - you just need to paste the script we share and you are all set to go. No more coding is required.
Screenshot and Screen Recording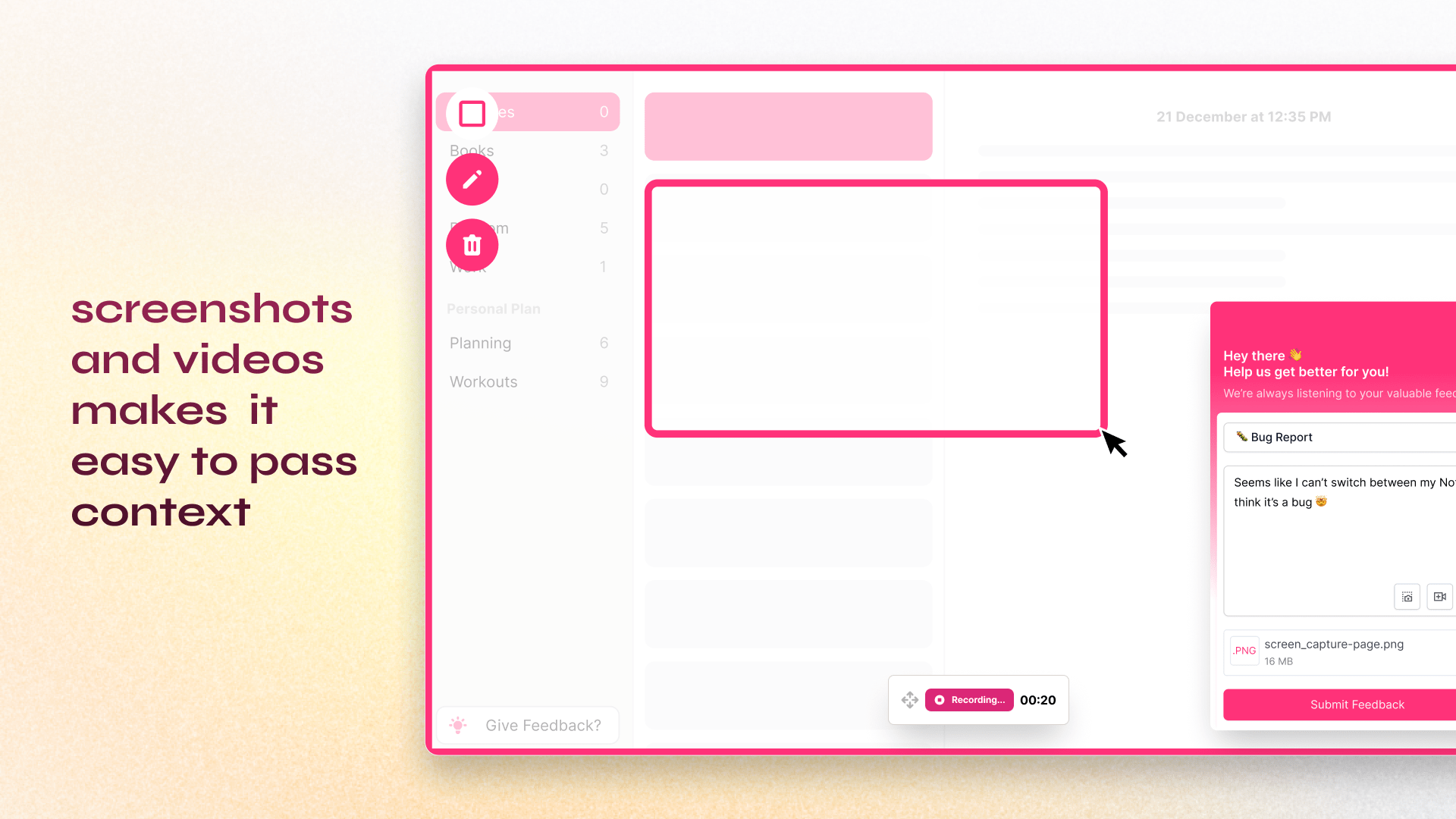 The ability to capture screenshots or record the screen is essential, making bug reporting very easy, and the user can pass the context to the support team with little to no effort.
Your user can capture issues and provide visual context with zero extra effort.
Respond to User Feedback
Responding to user feedback or closing the loop is very useful in building a communication loop with your users and letting them know that you've been listening to their feedback.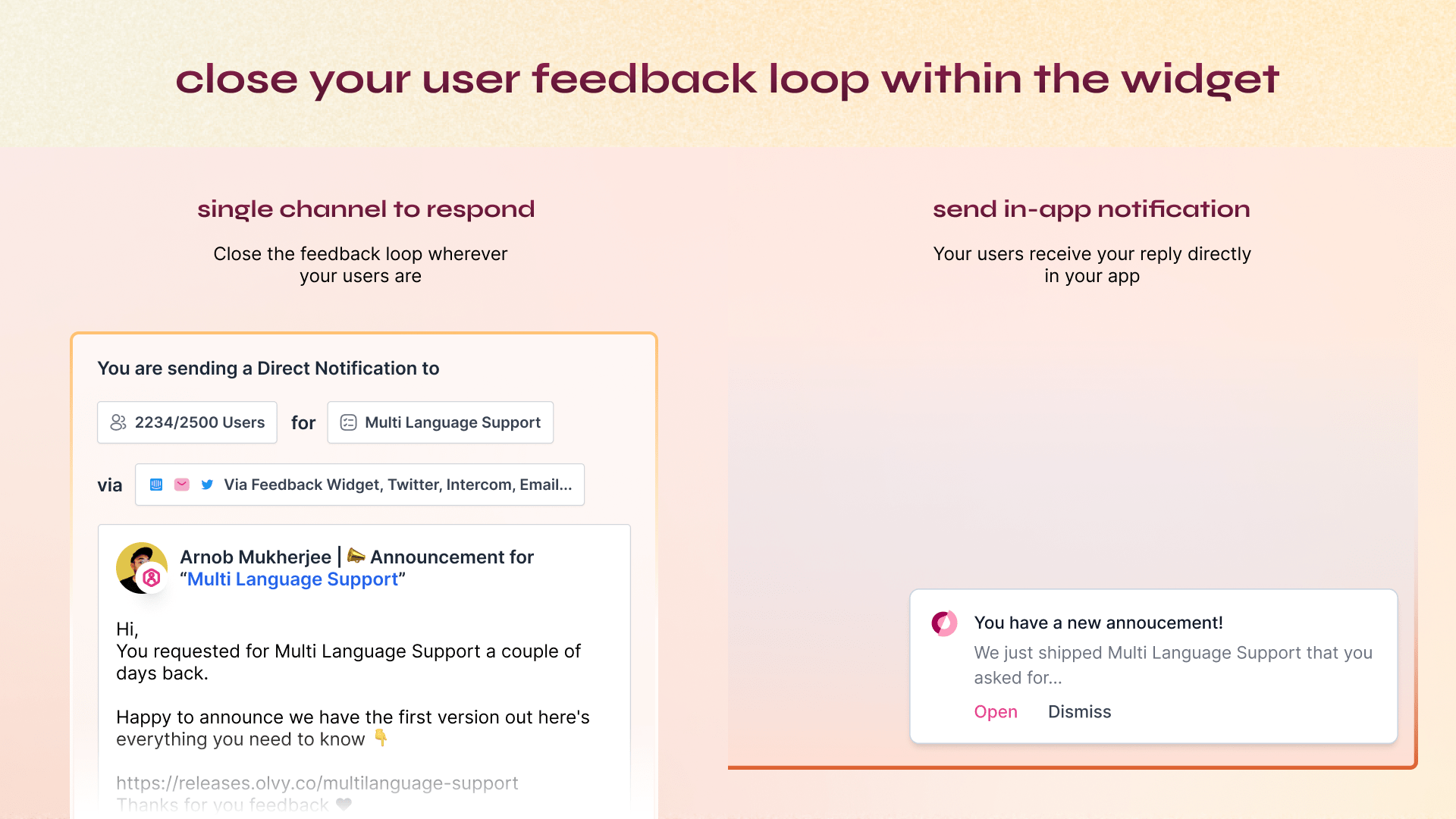 It is a handy feature where you can quickly reply to users' feedback, and they can see it directly on the widget itself.
We have this feature in our feedback widget, and our users love using it with their products.
User Identification
Another essential feature that your feedback widget should have is user identification so that a logged-in user need not enter their details like email id every time they submit user feedback. Having user identification ensures a seamless experience for your users.
Feedback Analysis
Feedback Analysis is yet another essential feature, as all feedback widgets let you easily collect user feedback, but only a few allow you to analyze them.
Automatic feedback analysis saves time and lets you effectively manage user feedback. It is a must-have feature if you want to be more efficient and save time managing your feedback. It is also one of the core features of Olvy.
Best Feedback Widgets 2023
We recently launched our Feedback Widget, which includes all the above mentioned features and many more. The main benefit of our feedback widget is that a feedback ecosystem that goes beyond feedback collection backs it.
Once the feedback is collected, you can use Olvy's AI stack to analyze and get meaningful data out of it, like feedback summary, most used keywords, top users added, and much more.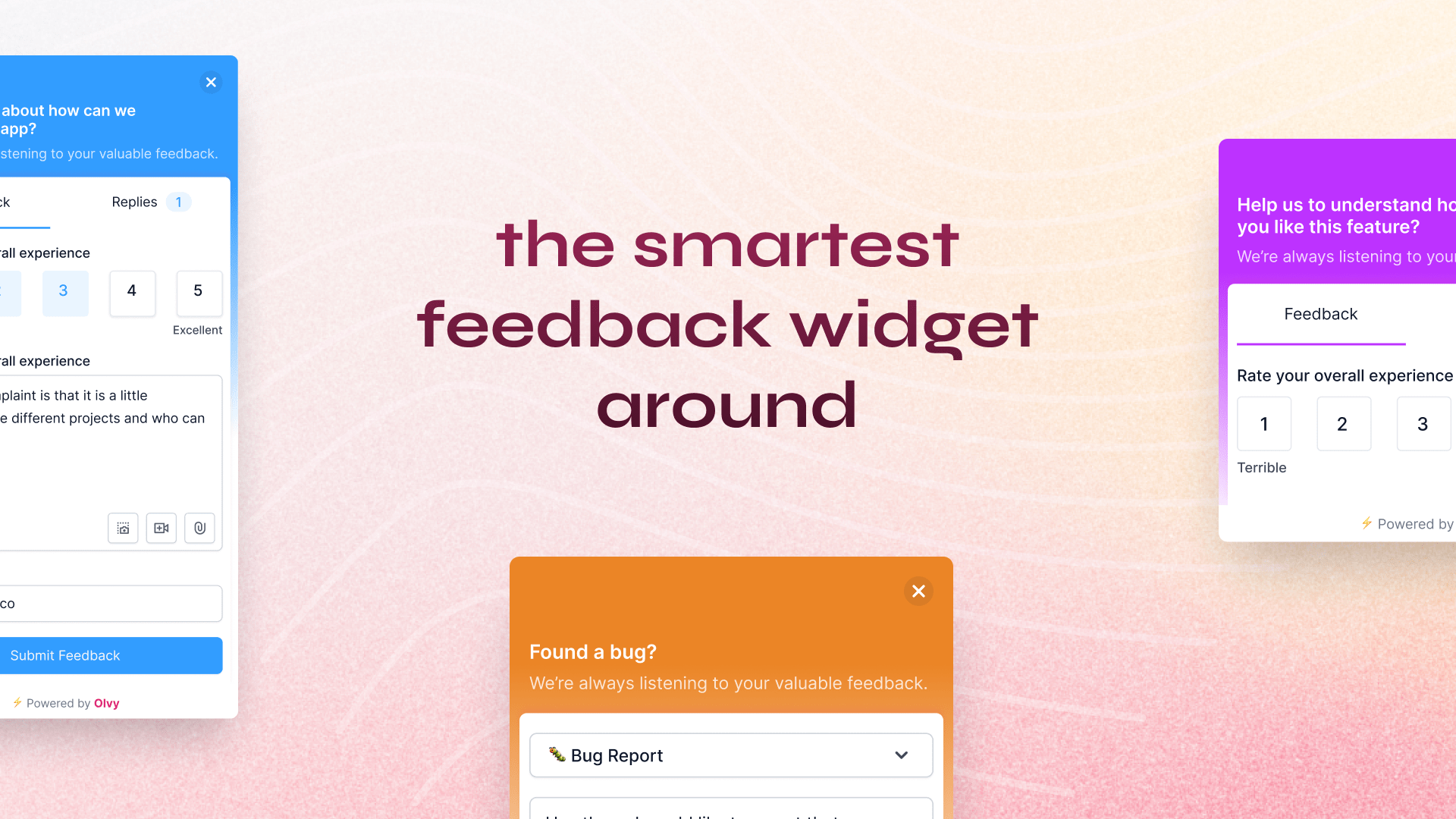 You can also directly push these feedback summaries to any project management tool like Linear and Jira.
Features:
Completely customizable
Custom CSS support
Dynamic dark mode
Screenshot and screen recording
Collect ratings
User identification
Reply to feedback
… and much more that you can experience now for free.
Pricing: The free plan is available and the paid plan starts at $30/mo.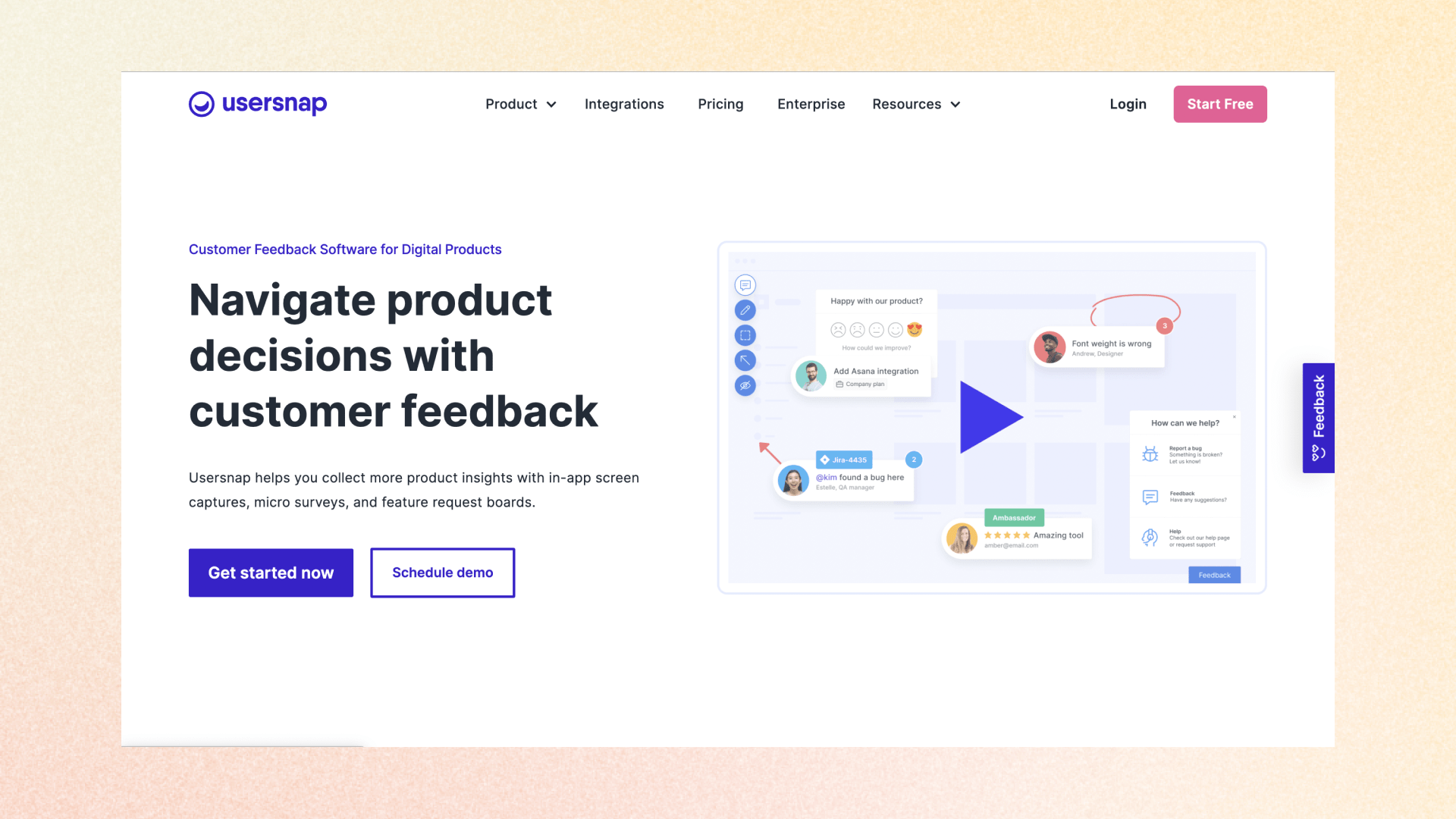 Usersnap is a popular feedback widget that lets you easily create custom feedback widgets or use pre-built templates. It includes all basic features like feedback collection, screenshots, screen recording, and many more.
But it lacks features like feedback analysis, summary generation, dynamic dark mode, and a few more.
Pricing: Plans start at $99/mo.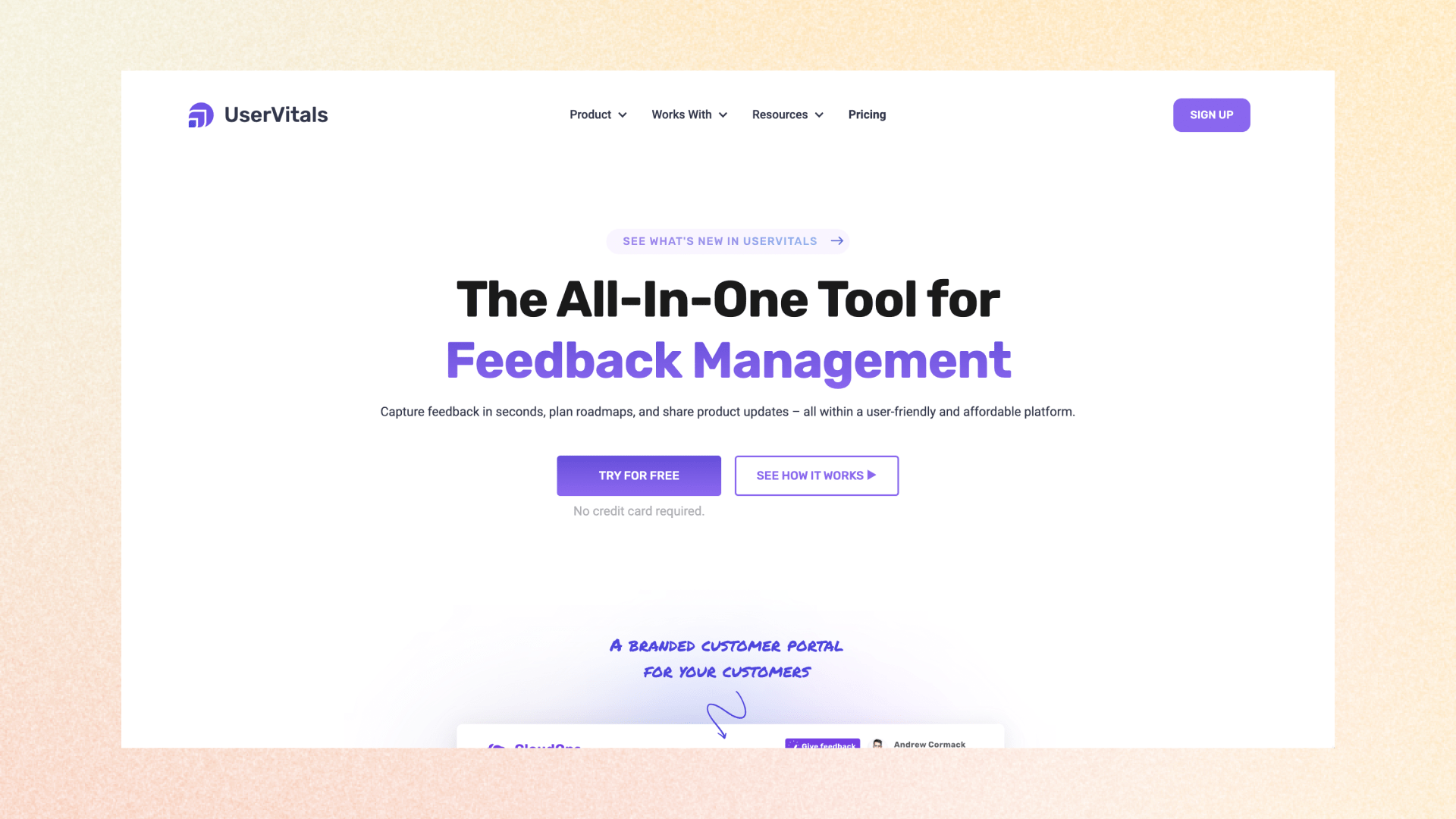 UserVitals is a product management tool with a the feedback widget as an additional feature. They provide you with an embeddable widget that can capture feedback from your customers and get stored directly on their dashboard, which comes with other tools like changelog, roadmap, and a few more.
Pricing: Plans start at $50/mo.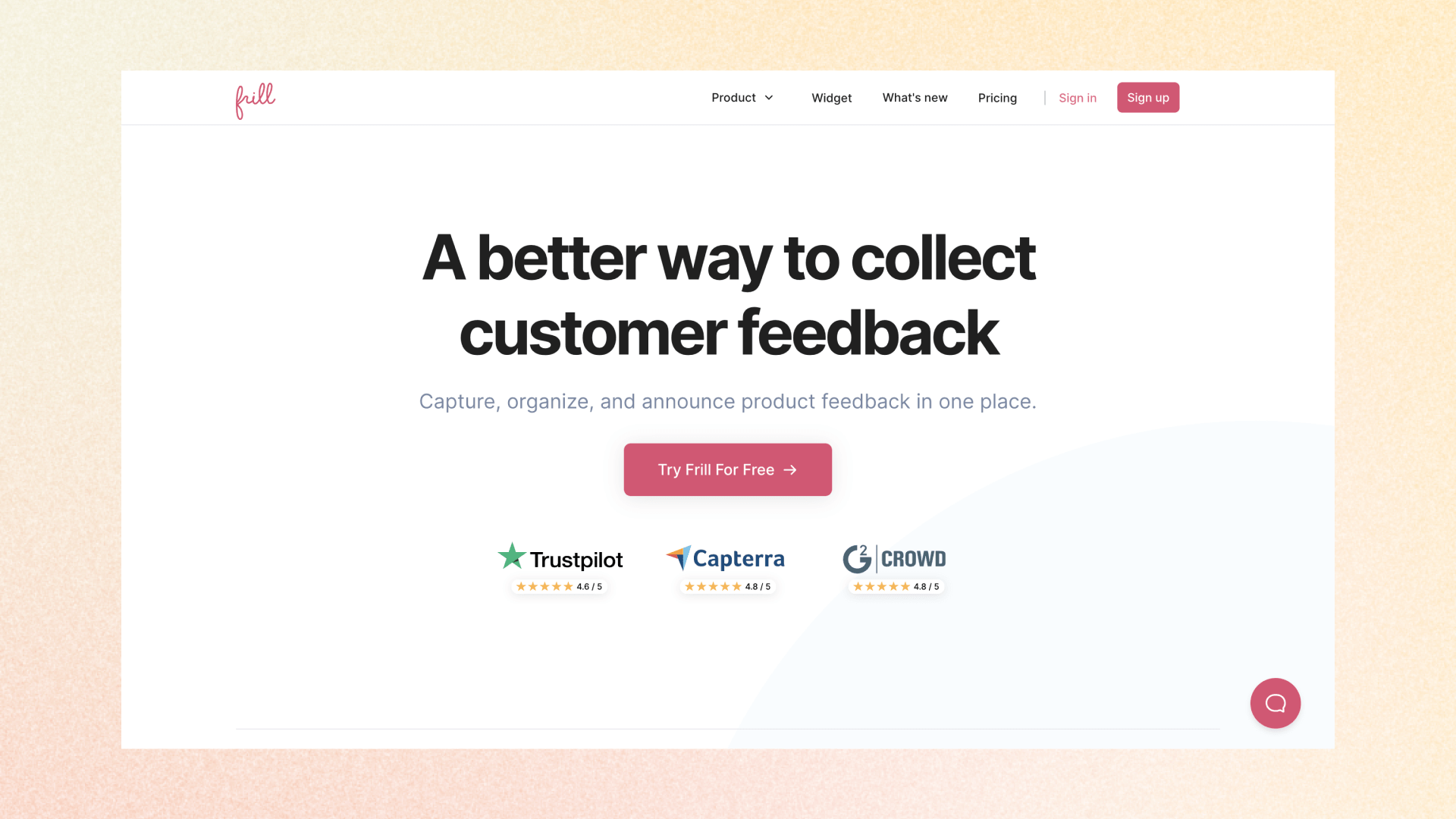 Frill is a product management tool around public roadmap and feature requests. It is pretty similar to UserVitals and comes with feedback widgets as a feature. All the submitted feedback is sent to their public roadmap as requested which isn't the right way of managing user feedback.
Pricing: The free plan is available and the paid plan starts at $25/mo.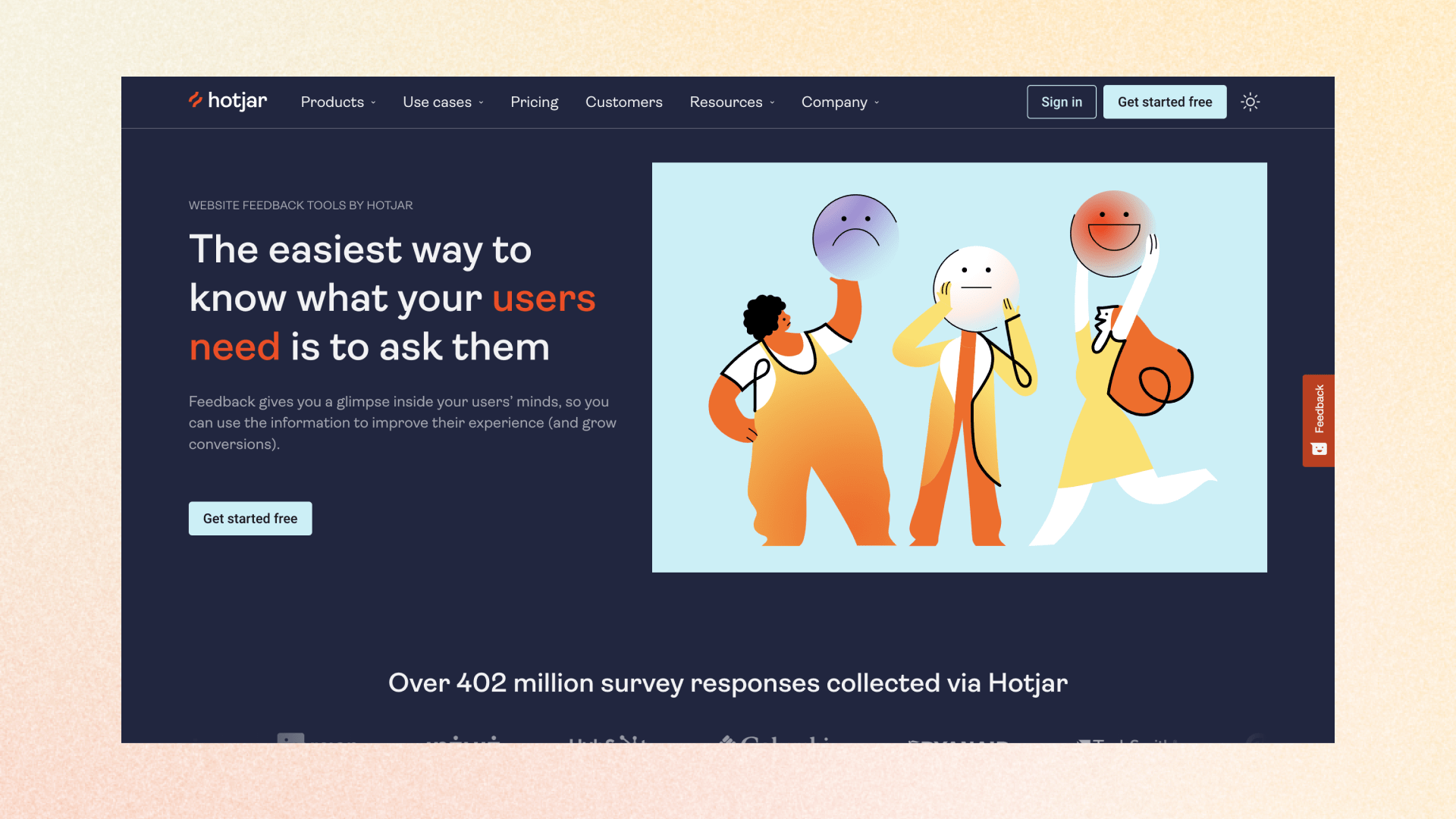 Initially, Hotjar started as a website heat mapping tool and they are extremely good at it. Later they kept adding other features and the feedback widget was one other first apart from their core offering.
Though they have an excellent implementation, the feedback widget is pretty basic, with many limitations. It's only suitable for fundamental use cases.
Pricing: The free plan is available, and the paid plan starts at $59/mo.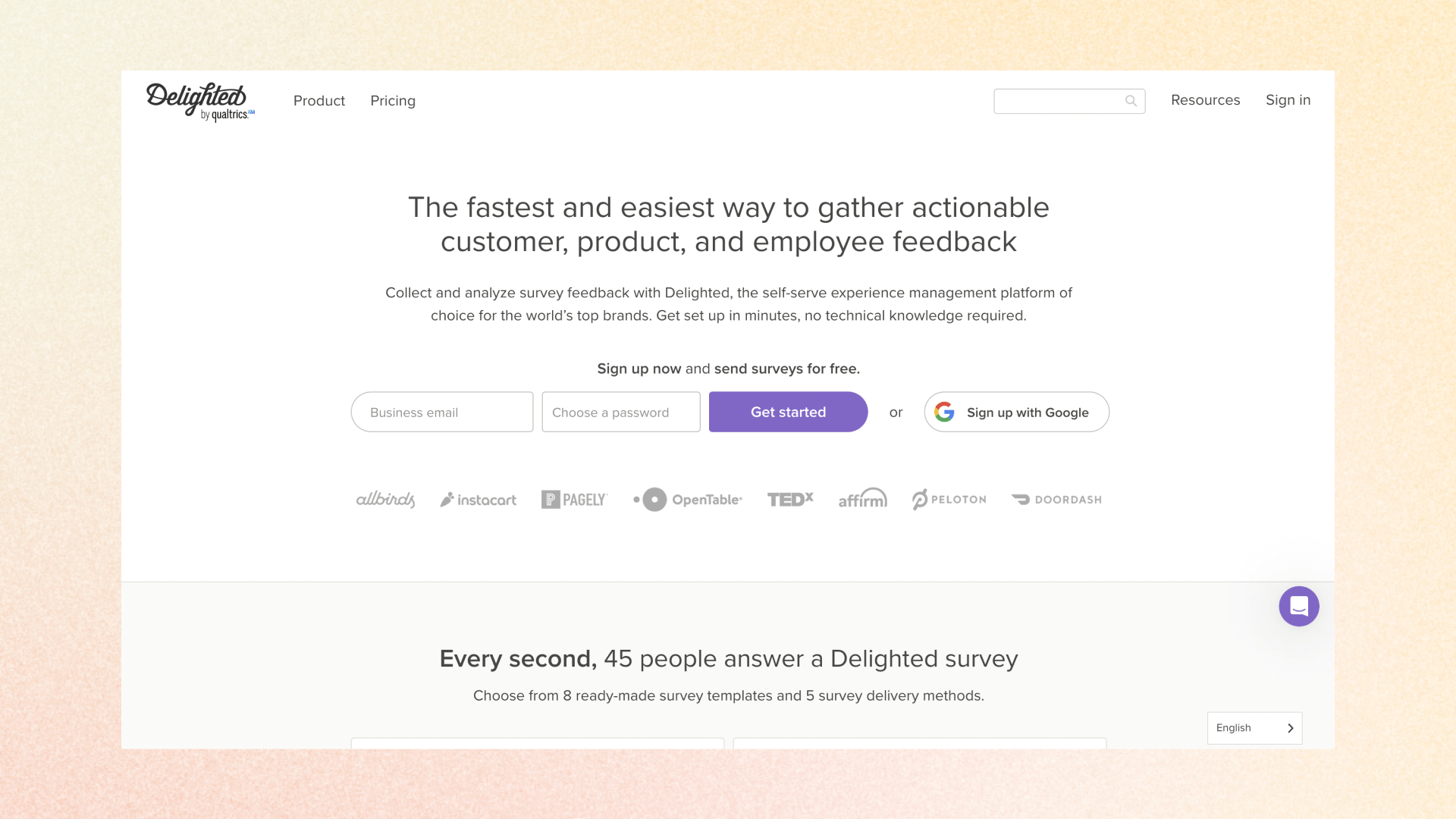 Delighted is one of the most famous enterprise survey and feedback tools. It's more than just a feedback widget for the website as you can use it for almost all surveys.
Though Delighted is a great tool, you shouldn't choose it just for website feedback collection as it's not specialized for it.
Pricing: The free plan is available and the paid plan starts at $224/mo. billed annually.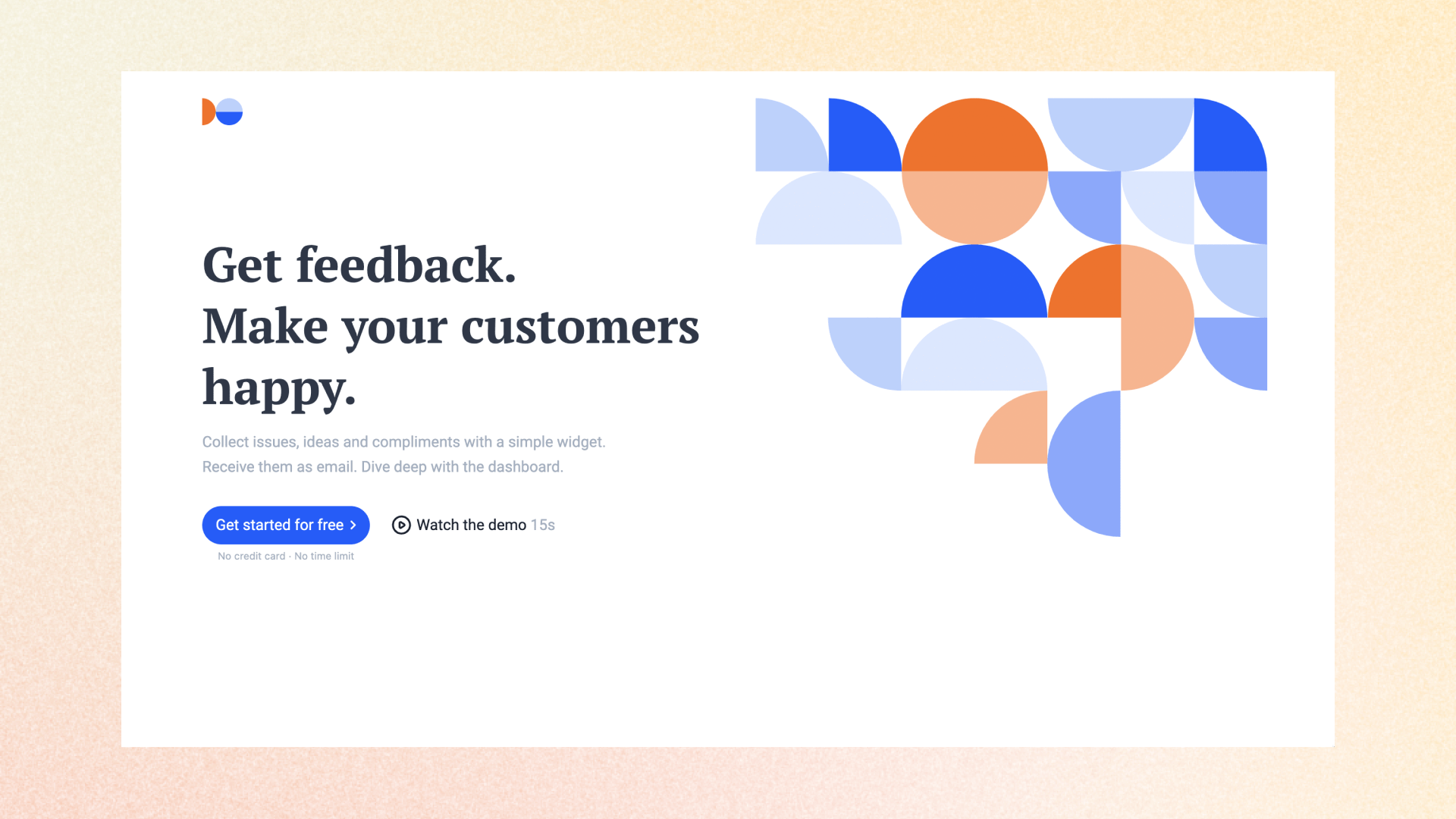 Feedback Fish is a minimal feedback widget similar to Hotjar's feedback widget but with a little extra.
On Feedback Fish, you can't customize the UI but you can code your widget to align with your brand, which is good but not the best solution for people who don't know how to code or want to keep it simple.
Overall it's a minimal feedback widget for primary use cases.
Conclusion
One thing is clear: if you have users, you should have a feedback widget, and ensure that the feedback widget you choose comes with the set of features you'll need.
At Olvy, we brainstormed over multiple use cases and built a solution that fits most scenarios.
So, while you choose our feedback widget, you can be sure that you have selected the best feedback widget, which helps you easily collect and analyze your feedback.