4 Best Ways to Communicate Product Changes to Users and Close the Loop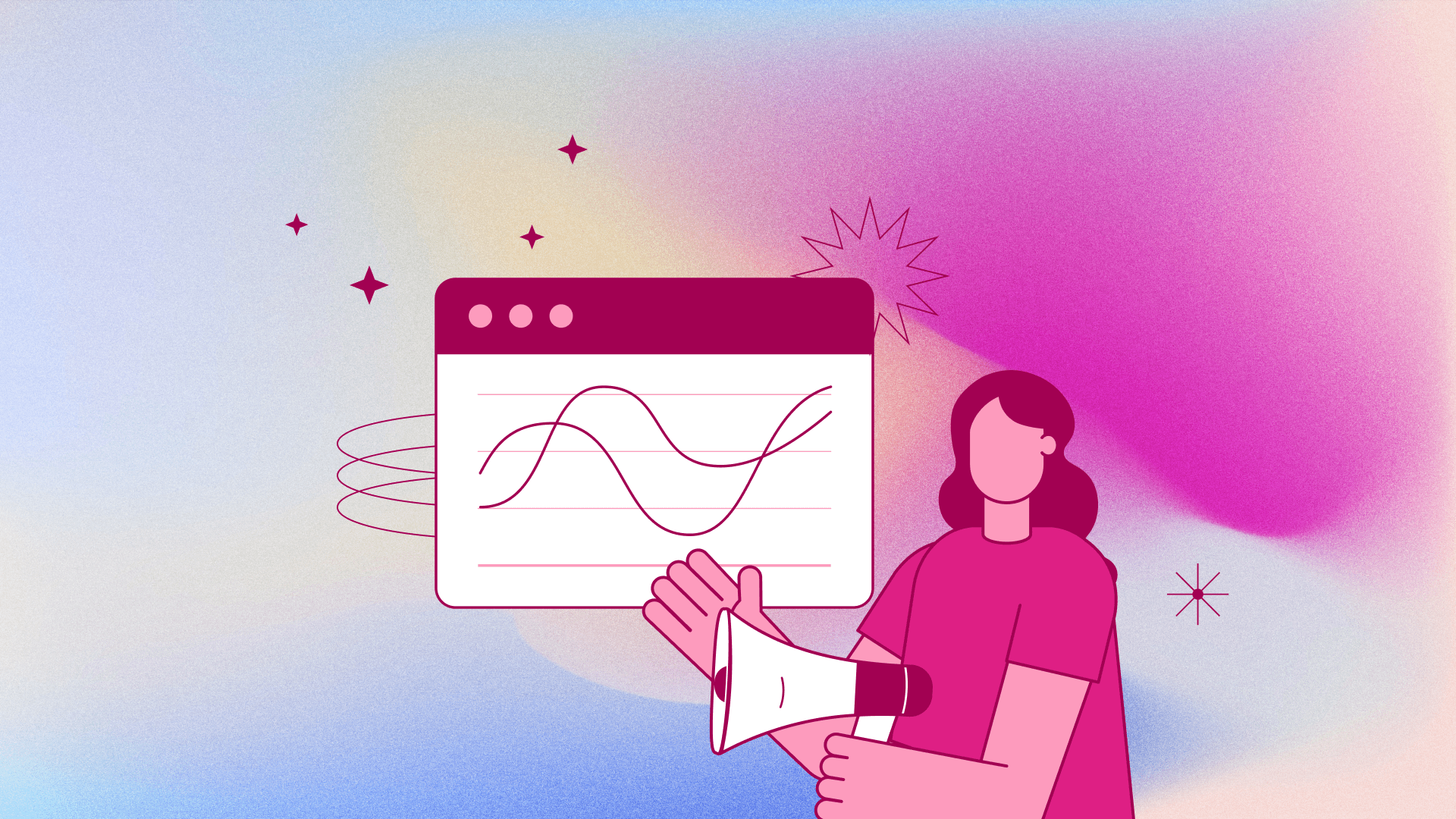 Whether you're a budding SaaS startup or a huge established brand in the industry, one common thing you should do is communicate product changes to users.
Not doing so will keep your product stagnant in the eyes of users, which will lead to poor conversion, higher churn, and a reduction in customer loyalty. So, it's essential to keep users updated with the product changes, as it also distinguishes your product from competitors and creates a unique brand image in the mind of users.
Not only this but why waste the month-long efforts of your product and engineering teams by not telling users what your teams have created? Knowing that the work they have done is liked by users will make your team the happiest. For that, you need to communicate product changes to users.
Now you know how crucial it is to keep your team as well as users in the loop about all the product changes.
Communicating product changes to users have various other benefits. So, in this blog, we'll cover why to communicate product changes to users, best practices to keep in mind while doing it and how you can do it with Olvy.
Let's dive into the blog.
Why Communicate Product Changes to Users?
You never know what your customers are expecting from you or what's going on in their minds. Informing them about product changes and making them feel valued by closing the feedback loop can bring a positive change in their mindset toward your product.
Apart from this, communicating product changes to users has various other benefits among which are mentioned below.
1. Helps in engaging users
Being in the SaaS industry, you just can't sit idle once the purchase is done. You have to engage with users continuously as it's an ongoing process.
You want them to return to you for which you have to show them they are being heard. Communicate product changes to them to let them know you've worked on their feedback and actively working on making product changes.
If you won't do such small things, users will think your product is stagnant and will switch to some other product where they will find more changes and improvements. So, don't let your team's efforts go in vain. If you are working on something, communicate and let the users engage.
2. Helps in closing the feedback loop
Think of a user who feels something missing while using your product. If you would be in that place, you will want that product to fill that missing gap.
So, if such a user gives feedback about this or anything that is not working properly, your priority should be to close the feedback loop by making improvements around that.
Once you are done with this, you think the feedback loop is closed but the loop is not closed until the user doesn't know about this. Here comes the role of communication. Communicating product changes to users helps to close the feedback loop. You have various feedback management tools in the market to manage this thing among which Olvy is one such tool that you can check for this.
3. Helps in increasing rates of action
New feature releases are just worthless if users won't start using that new feature. This is only possible if they will know about any such changes. For that, you need to inform such changes to users so that all your existing as well as inactive users take action and start using all new features that are added. This implies that communicating product changes to users boosts rates of action and increases activation.
4. Helps in building trust among users
Communicating product changes to users helps in building trust among users as this builds two-way communication. Users trust you as they know they are being heard and you work so hard on things that they say or want to experience.
So, it's important to send release notes to users to inform them about the changes made to the product. Having a changelog page on the website also works as a way to build trust in your product as it has all the improvements or changes made to the products in chronological order. It reflects how you work toward your users' needs.
4 Best Ways to Communicate Product Changes to Users
Only pushing release notes is not enough, informing product changes rightly to users is equally important to ensure that the users don't miss the information. To make the task more doable for you, here are some of the best practices to keep in mind while communicating product changes to users.
1. Make releases easy to find for users
All your users will be more active on different platforms, so it's your responsibility to make your release note easy to find for users. Try to send releases or product changes on every platform – blog posts, emails, in-app notifications, etc.– so that no user misses such amazing product updates.
Other than this, you can also add a separate changelog page (with the help of a changelog tool like Olvy) to your website where all your product updates will be stored in chronological order. This will be beneficial for users as well as customer-facing teams.
2. Create visually appealing releases
If you'll create complex release notes, it might get hard for users to understand changes that will lower rates of action. To boost engagement rates, you need to create short, crisp, skimmable, and visually appealing releases so that users get excited to take action. You can use screenshots, videos, images, GIFs, etc., to make it more visually appealing.
Try to explain product changes to users via visuals as these are more understandable. In the end, you can also include a link to upgrade to the changes that are made in the product.
3. Add personalization
Personalized release notes increase the engagement rate in comparison to generic ones. So, it's beneficial to add a personal touch so that users can connect more to your product. You can send personalized release notes (communicate product changes) to users via Olvy.
Olvy is a feedback management tool that helps to close the feedback loop and update users about changes in a personalized and visually appealing way.
4. Pay attention to users
Paying attention to users and reflecting that your team is listening to them gives your company an evolving image among users. Show them that you are working towards making improvements to the product.
If you are working on a new feature or update, inform users that their suggestions are being taken into account and you are working on implementation. Doing such small efforts will completely change your relationship with the users in a positive way.
Now It's Your Turn: Communicate Product Changes to Users via Olvy
Olvy is a feedback management and changelog tool that helps users to communicate product changes to users.
Here are some of the ways that we use to tell users about product changes:
1. Release Notes page & in-product release note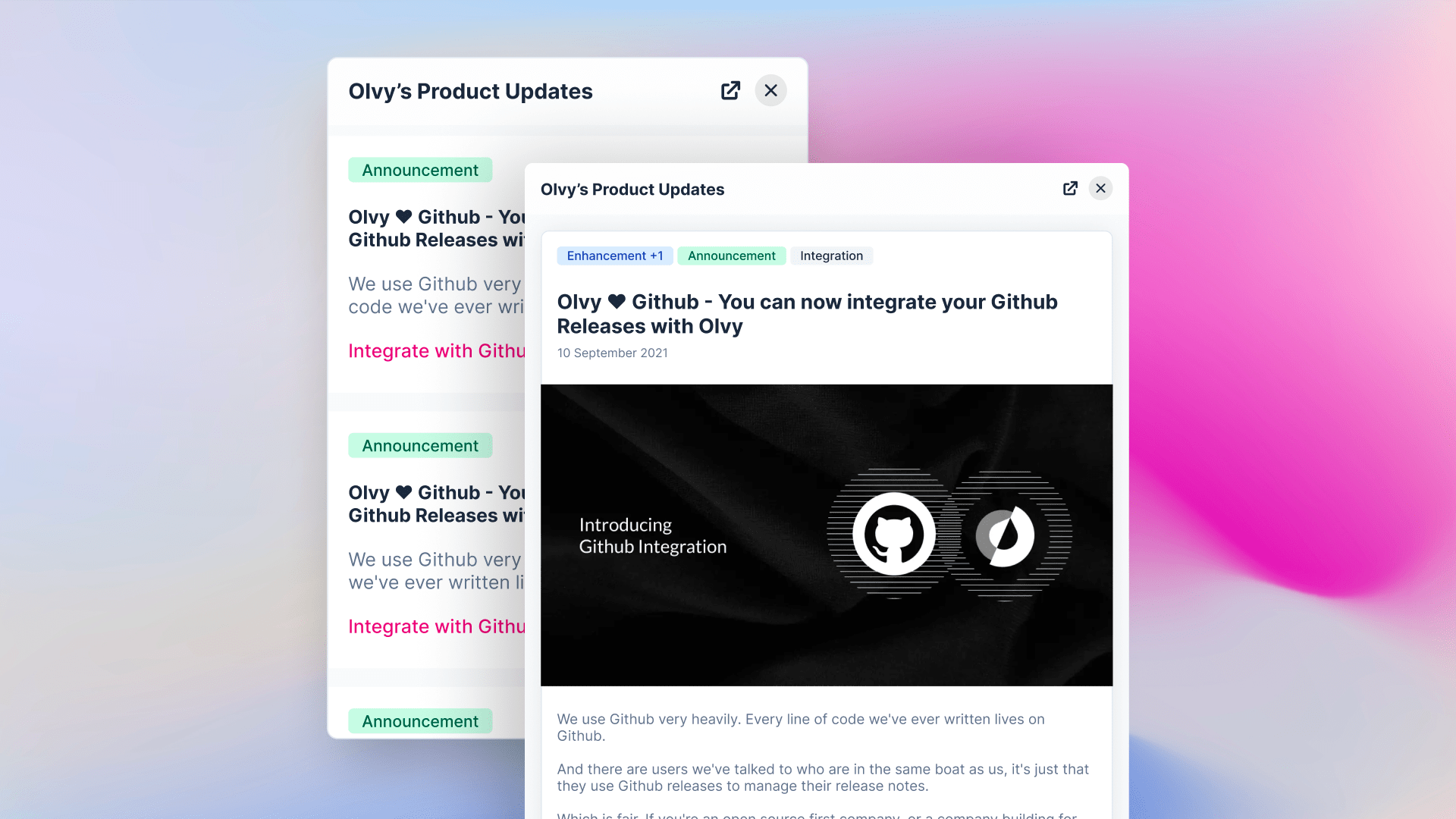 Olvy helps companies to add a separate release notes page to their website or product where companies can maintain product changes in chronological order by sending release notes to users. This informs users as well as helps companies to maintain records of changes made in the product.
2. Email the release note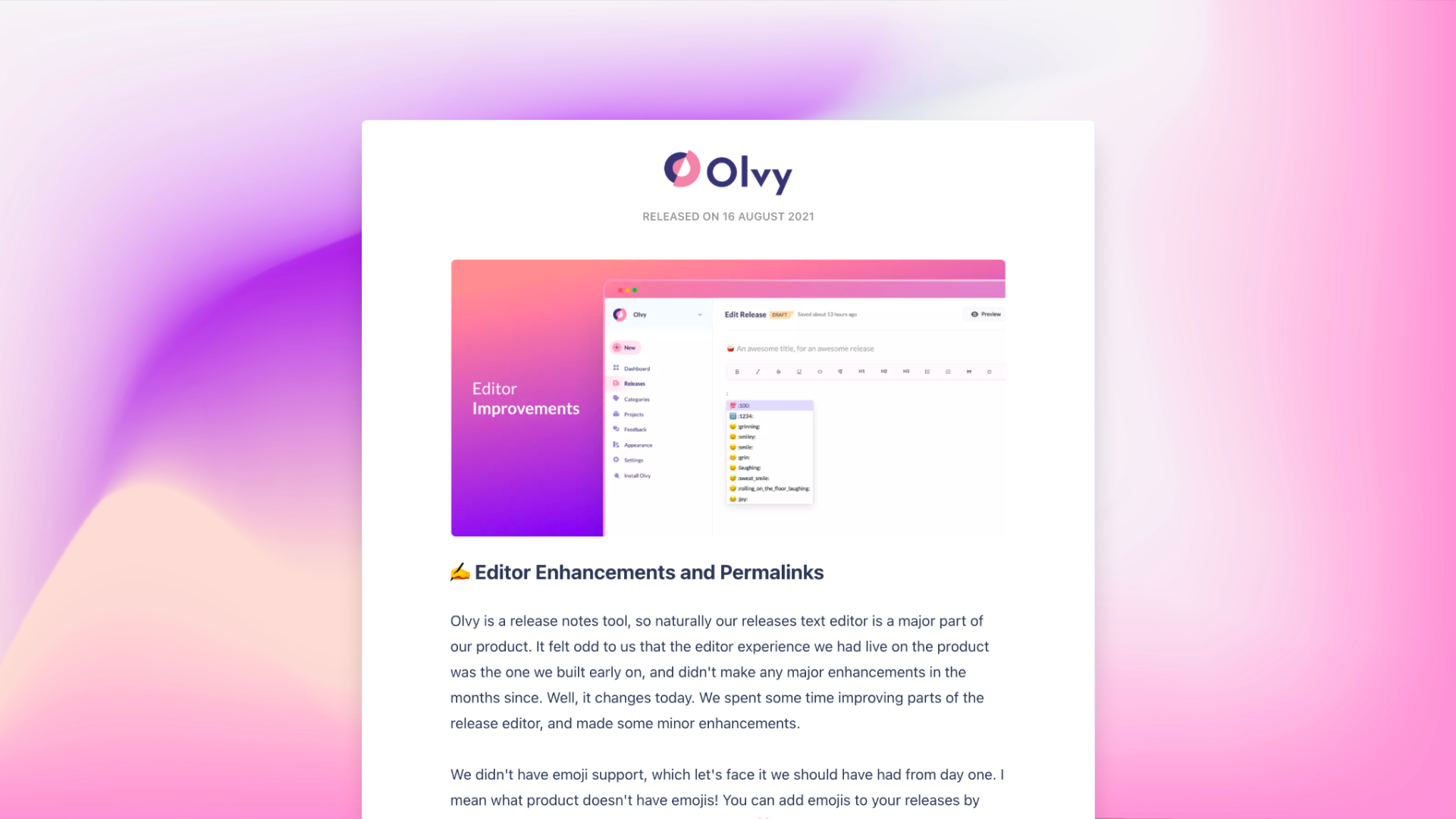 Olvy also helps companies to send release notes via email. There are chances that users may not visit the company's release notes page which means the user will not get information about the changes. To avoid such probabilities, we push release notes to the users' email tab.
3. Publish on Slack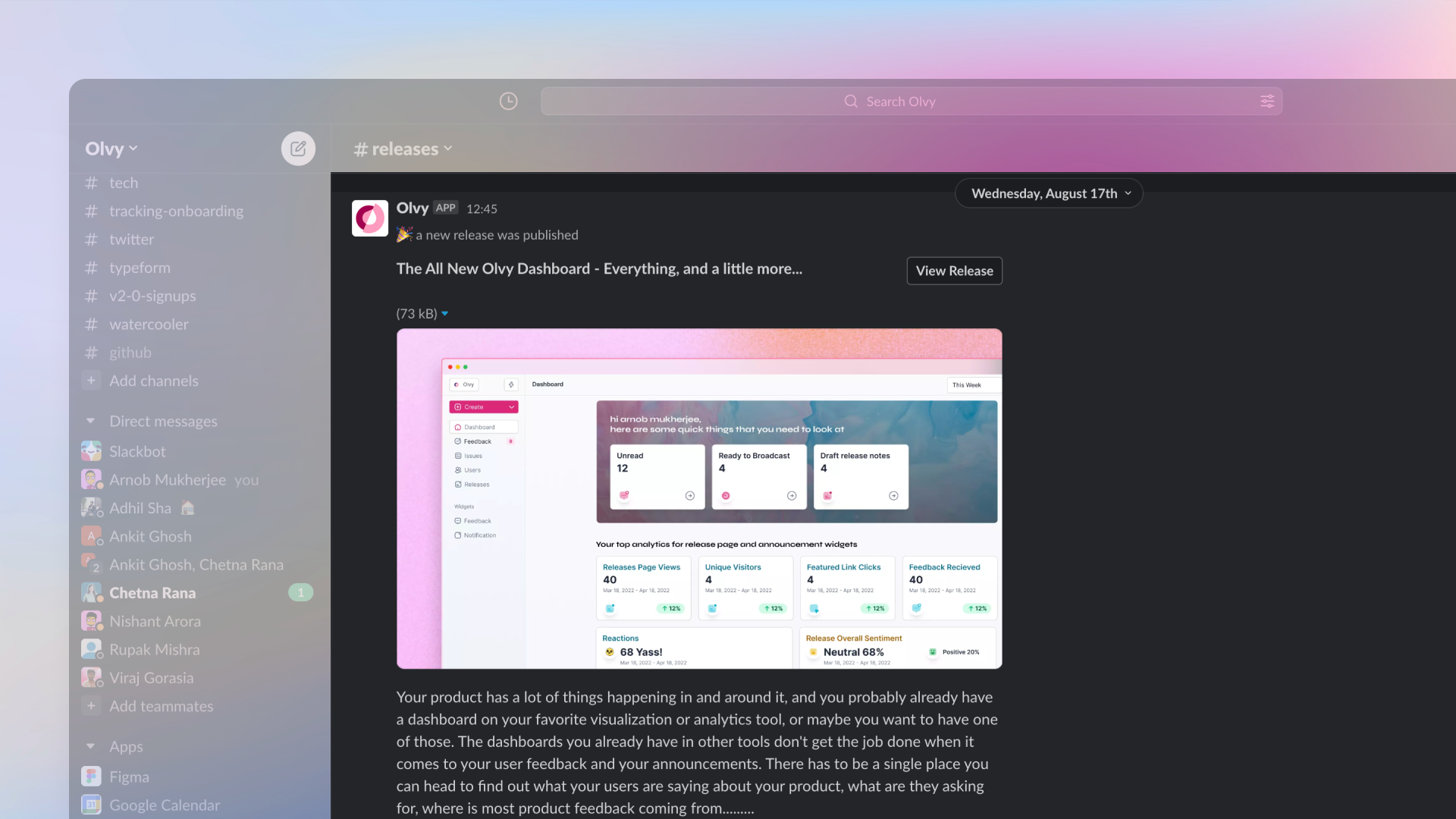 For the internal team to keep a check on all the changes made in the product, Olvy allows you to publish the changes on the slack channel where the whole team is connected.
4. 1:1 notification via integrations (i.e, Crisp, Twitter, and others)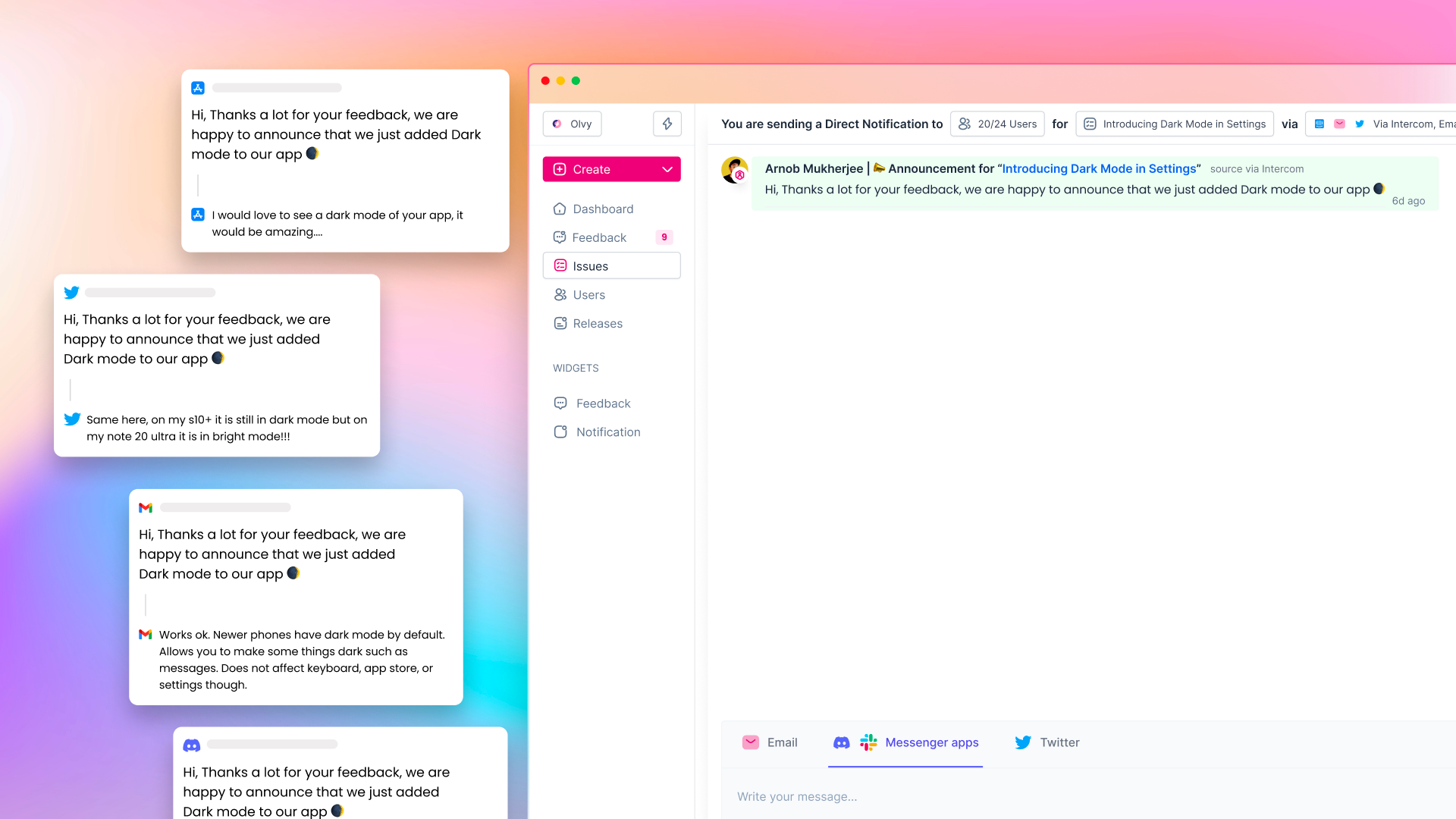 With Olvy, you get connected to various other apps as we are integrated with tools such as Crisp, Slack, Twitter, Discord, etc. So, whenever you make any changes, you can communicate these changes to your users through 1:1 notification via these integrations.
Olvy uses these ways to inform its users about product changes and also lets its users do the same.
To smoothen your communication with users, leverage the amazing features and integrations of Olvy.
Try it out once and you will see the value yourself.