Canny Review 2023 and a Better Alternative
Canny is a product feedback management tool that helps companies to build better products with customer feedback. In this blog, we'll review Canny, see what its users are saying about the tool, and what other alternatives you have.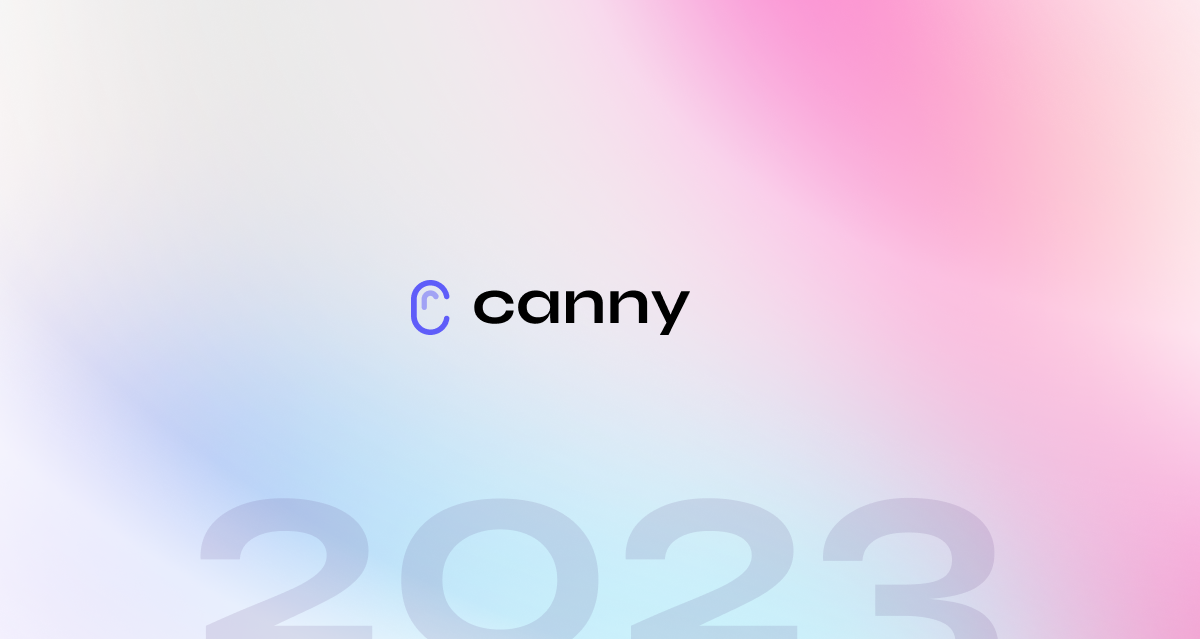 Canny is one of the product feedback management tools that help companies to build better products with customer feedback. It lets you capture, organize, and analyze product feedback to plan a product roadmap and update users about the changes.
In this blog, we'll review Canny, see what its users say about the tool, and what other alternatives you have.
Table of Content
Let's get started!
Overview: What is Canny?
Canny is an easy-to-use tool for collecting feedback from your users. The tool offers many features and integrations to help you get the best out of your feedback.
Canny is based on feature voting and helps you build better products by collecting user feedback and analyzing those feedback to plan product roadmap. The tool has a user-friendly interface that makes it easy for users to access the tool.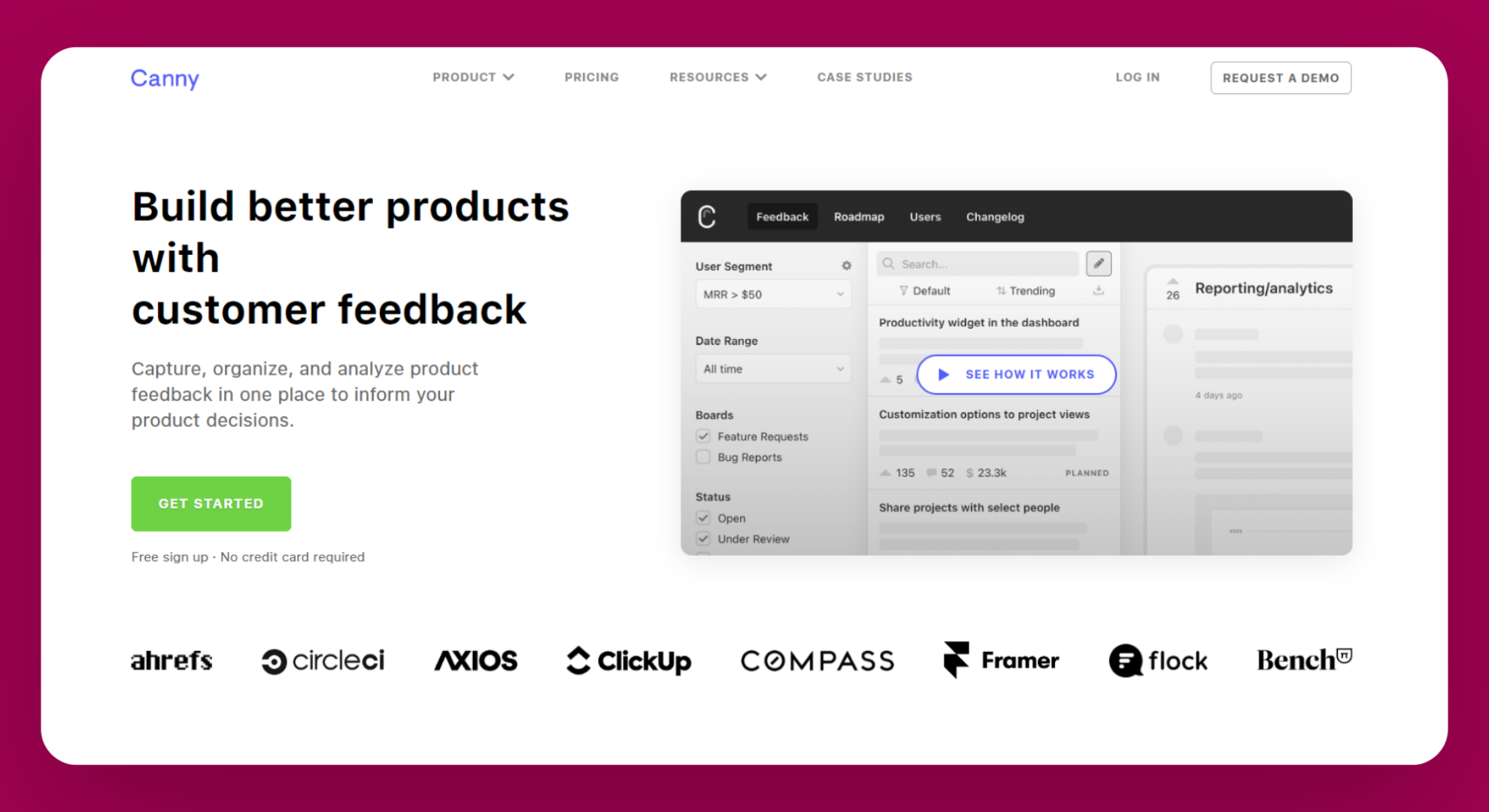 Features of Canny
Now, let's look at Canny's features that make it such a loved and helpful tool for companies.
1. Collect Feedback From Users and Teammates
Canny's this feature lets you keep track of all the product feedback from your customers and teammates in place.
It helps you understand your users so that you can build impactful features.  
You can collect feedback publicly or privately on a dedicated feedback board using Canny.
2. Sort and Analyze Collected Feedback Data
Canny helps you analyze the collected feedback data by offering various options like sorting, filtering, etc.
It lets you cut the noise and analyze feedback by adding relevant data.
You can also track the impact of any feature on your revenue.
3. Build Your Product Roadmap
Another amazing feature of Canny is that it helps you prioritize features based on score and rankings.
It also lets you create public and private roadmaps so everyone can be on the same page.
You can also set deadlines with an estimation of when the feature will be ready to ship.
4. Announce Updates With Changelog
Canny also helps you announce product updates to engage users with your newest features.
You can also embed updates directly into your product using widgets.  
Canny Users Feedback
Your users are the ones who decide whether your product is worth it or not. So, let's see what Canny users are saying about the tool.
"Great for Product Teams"

What do you like best?

This tool really helps our customers provide feedback and priorities to our Product, and Development teams. We were able to implement this directly into our app which creates a seamless experience for our users. The best part is that we've seen our customers interacting with each other; answering questions and providing help before our team is able to get involved. Our clients have sent in comments saying they love the feature and really want to engage.

What do you dislike?

Still a new company so there are features they're working on that would be very valuable, but they have a great sense of priority and use their own tool!

What problems is the product solving and how is that benefiting you?

Feature request control to Product Team, feature request prioritization, community involvement, public roadmap, change logs. Clients love it! they communicate with eachother and having this tool integrated into our app means less telephone between sales, support, and product.

John M. | Senior Product Manager | Computer Software         Source: G2
Mid-Market(51-1000 emp.)
"Tried Using Canny as a Sales Feedback Tool "

What do you like best?

Canny's Product team is AWESOME - I have rarely used a tool that gives me such visibility into their own roadmap, follows up on every request submitted, and gives updates when a request has become a feature and is released. I aspire to this level of transparency within my own Product team at my org.

I also like how easy it is to submit feedback through the tool, vote on ideas, see what has been submitted etc. Its a great idea for any company trying to implement a Suggestion Box or open forum for ideas from all areas of the org.

I also liked the integration with Slack, as we got instant updates when something was added and could resource our team around this to manage the channel. Made it easier to see updates then via email or notifications in the tool itself.

What do you dislike?

The tool ultimately didn't work for our needs. We wanted to use it as an Idea Board for Sales to submit feedback to the product & eng teams so that they can then upvote each others' ideas, which would help us prioritize the feature requests based on what is most asked for. However, the "input form" didn't have enough customizations for us - we needed more flexibility in the types of form fields, what they said etc so we ultimately didn't use them for that.

Recommendations to others considering the product:

their support is great, and visibility into their roadmap and what they're working on is great!

What problems is the product solving and how is that benefiting you?

We wanted to solve the feedback loop problem in our org with a tool that would allow users to submit their ideas or requests, in a way that was easy for us to manage and prioritize. It worked for us for a few months when we were about to launch an internal UI and could receive UAT feedback from internal users on our alpha testing team, but since we launched the uI the tool hasn't been as helpful.

Verified User in Marketing and Advertising            Source: G2
Mid-Market(51-1000 emp.)
"Beware - they refuse to listen to top-voted feedback"

Overall: I would look elsewhere immediately - Canny seems like a club that pretends to take "open feedback" but they delete feedback they don't agree with, and refuse to listen to their own open, voting system.

Pros: UI seems nice, shame about the rest (see the cons section)

Cons: The company bills itself as feedback software, and to dog-food their software, they take on feedback on a public forum which is on their website. One of the top-voted features on their public roadmap is to remove their intrusive "Powered by" branding. In our comms with their people - they flat out refused to remove their branding - despite the number of votes for people wanting that, and despite the fact that we said we would pay much more.

Reasons for Choosing Canny: We did not pursue this further - it seems Canny (as a feedback company) doesn't actually care about feedback, just about enriching themselves and getting free leads off paying customers by forcing a "powered by" link to be in place, no matter how much you pay, no matter what plan you are on.

Amit K. | CEO                   Source: Capterra
Computer Software, 11-50 employees
Olvy – Better Alternative to Canny
Canny is a place for your users to come and give you feedback, upvote existing ideas, and maintain a changelog. That's why Olvy is here to simplify your task. It helps you reach where your users are, keep a log of all the feedback you receive, and close the loop 1 on 1 with those users.
Canny is a product management tool based on feature voting, whereas Olvy focuses on feedback analysis and closing the loop with the users. Another amazing fact is that Olvy offers more features at a lesser price than Canny.
Both the tools are amazing and perform their tasks well. You can see a more detailed comparison of both tools and decide the one which best suits your company's requirements.