Beamer Review 2023 and a Better Alternative
Beamer is a product marketing platform that helps update users about the latest product changes. In this blog, we'll review Beamer, see what its users are saying about the tool, and what other alternatives you have.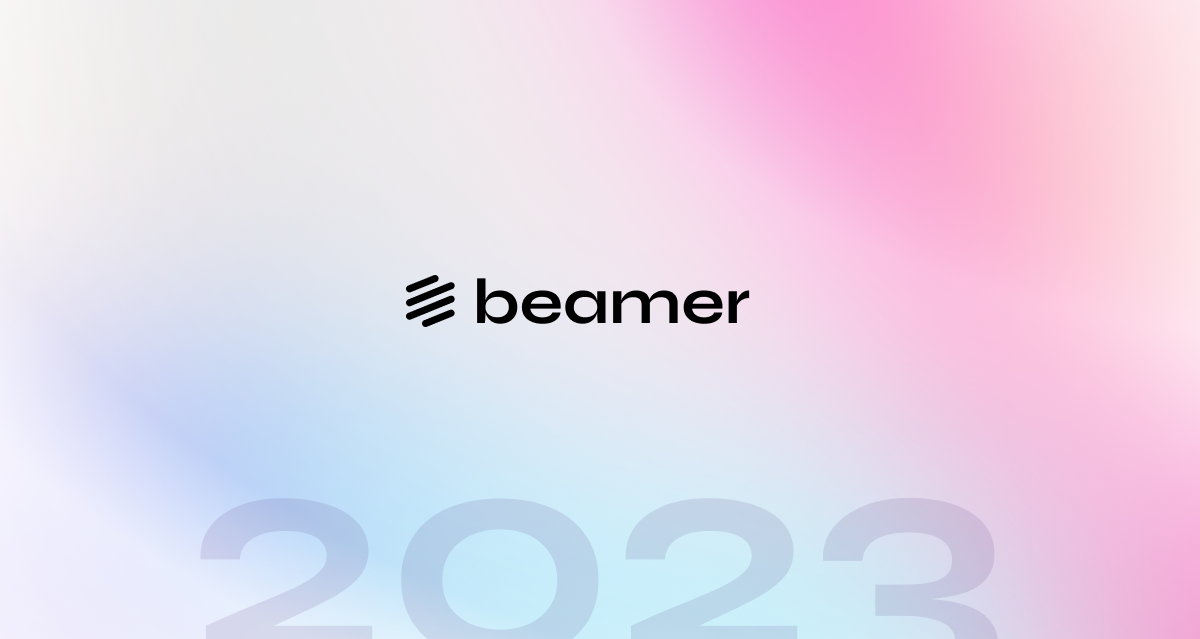 Beamer is one of the best product marketing platforms, and they claim to be number #1 in that. It helps product teams continuously update users about the changes made and keep them engaged.
In this blog, we'll review Beamer, see what its users say about the tool, and what alternatives you can opt for other than Beamer.
Table of Content
Let's get started!
Overview: What is Beamer?
Beamer is the world's #1 product marketing platform that helps product teams announce changes to users, prioritize product features, and close the feedback loop with them.
Beamer offers an amazing range of templates, from simple to complex ones. It offers a variety of designs that can be customized to suit your needs. The website is easy to navigate due to its simple and straightforward UI.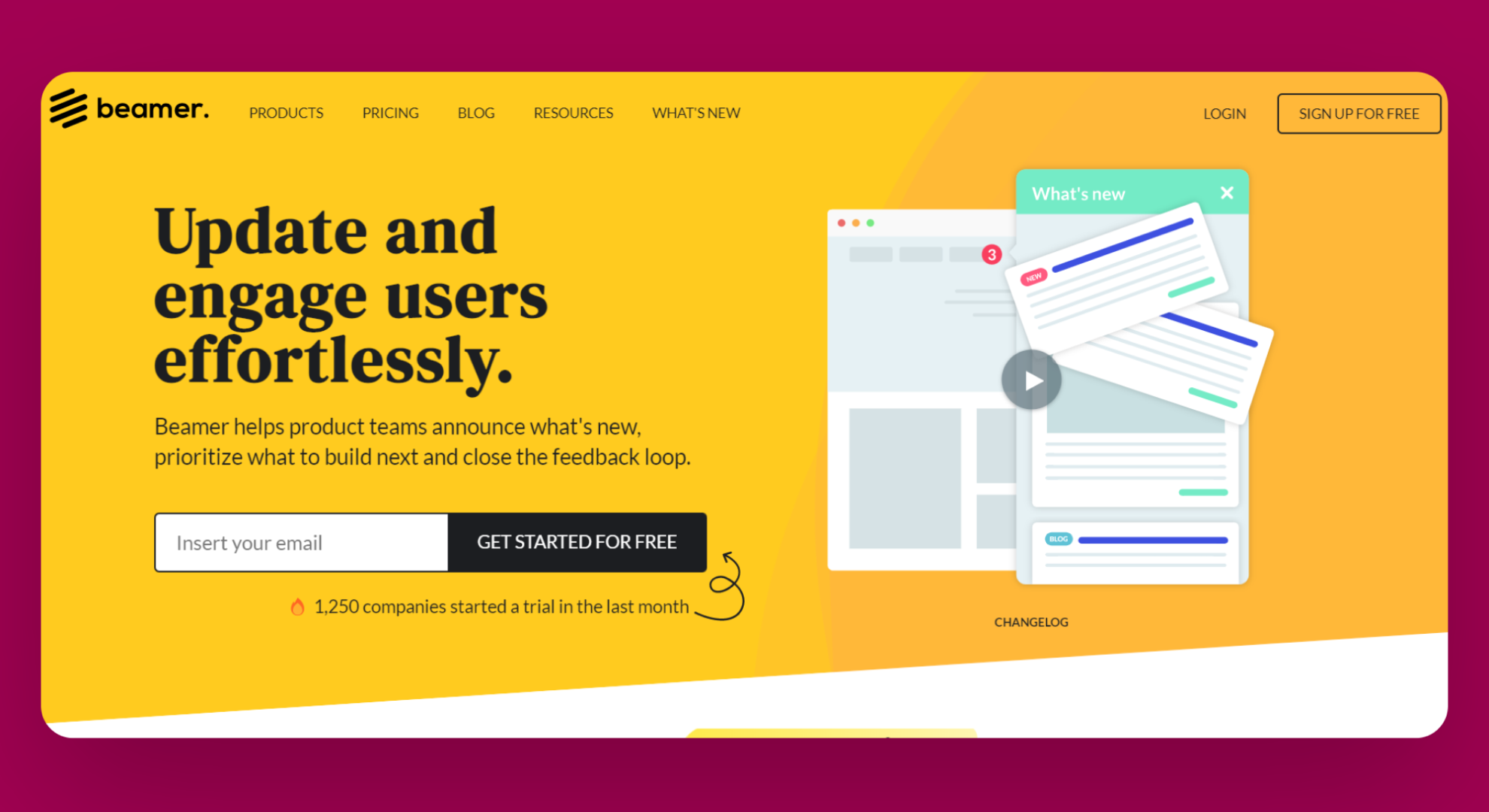 Features of Beamer
Now, let's look at the features of Beamer that make it such a helpful tool for product teams.
1. Changelog App
Beamer's changelog is a service app that helps improve your users' engagement.
It lets you announce your latest product changes – new features, bug fixes, feature improvements, and much more – to your users.
It offers embeddable widgets and standalone pages that you can use for product announcements.
2. Roadmap and Feature Requests by Beamer
This feature of Beamer lets you share the roadmap and make better product decisions.
With Beamer, you can display upcoming features to your users. It also helps you prioritize features based on real user feedback.
It lets your users track the current status of each project to keep all the users on the same page.
3. Easy-to-use NPS Tool
Net Promoter Score (NPS) is an important metric to track as it tells you how satisfied your users are with your product. This Beamer tool helps you track this NPS score, giving you the scope for improvement.
Beamer NPS tool helps you track and improve customer happiness with NPS calculation.
It lets you send user surveys and measure customer satisfaction with the NPS tool. It is a no-code tool that helps you collect actionable user feedback.      
4. Notification Center by In-app Widgets
Announcing product updates to users is the center of attraction for Beamer. That's where its power lies. It helps you build a notification center for your business in just a few minutes.  
Beamer notification center helps you announce the latest updates in-app with powerful widgets – pop-ups, top bars, snippets, and tooltips.
Beamer Users Feedback
To actually know what value the tool can provide, it's important to ask its users. So, let's see what Beamer users are saying about the product to understand the value Beamer provides to its users.  
"All you need for in-app notifications (and more!)"

What do you like best?

It's easy to use, and it allows you to notify your customers about all product news and other important changes!

What do you dislike?

It could be improved when you have to segment your audience.

What problems is the product solving and how is that benefiting you?

The best thing is that you don't have to choose a time for communications: when you launch a new message, it remains on the left bar with a notification until the customer doesn't read it!

Emilia G. | Content Specialist        Source: G2
Mid-Market(51-1000 emp.)
"I would recommend Beamer for your site "

Overall: Great tool to communicate with users without being too intrusive.
Pros: Easy to use, Great to gather feedback from users Simple, clean interface.
Cons: Can't time your post to be removed. Can't add a video (except for youtube, instagram, vimeo)

Renee P. | Monetization Specialist            Source: Capterra
Entertainment, 51-200 employees
"A smart widget for my users for product updates and more"

What do you like best?

What i like the best about Beamer is that it is so easy to use and configure. From User feedback to NPS (net promoter score), user segmentation, advanced analytics, and bult in zapier integration.

The widget also looks lovely and blends well with any website / app.

What do you dislike?

The part I dislike about Beamer is that their native integrations rely on Zapier and recent Webhooks. There's a ton of external platforms that would have connected with beamer natively like CRMs, ESPs, Page / App Builders, etc.

There's also a ton of improvements to work on inside beamer like having multiple products per beamer account, having a roadmap board for improvements and priorities, custom statuses, landing page improvements, and so much more, which similar products in the market have already done.

Recommendations to others considering the product:

I'd definitely recommend beamer especially for SaaS which would want their users informed of any updates inside the platform.

What problems is the product solving and how is that benefiting you?

My initial use case with beamer is for a small app to integrate Beamer with. Benefits realized is that the users are informed of changes and they can easily browse thru them as they enter the app.

Mike Lester R. | Systems & Methods Head             Source: G2
Small-Business(50 or fewer emp.)
Olvy – Better Alternative to Beamer
Beamer is an amazing changelog tool that helps product teams in product marketing. But there are more such amazing tools that you can use for changelog.
One such tool is Olvy which started as a changelog tool but later understood that users need more than just a changelog tool. So, now, Olvy also helps collect and analyze user feedback easily. Moreover, Olvy gives you more functionality on this such as you can create issues with the whole context and even reply to feedback where you got it.
To sum up, in one line, Olvy is a Beamer alternative that helps you collect, analyze and reply to users!
You can go for any tool if you just want a changelog tool, but use Olvy if you want more than one.
Evaluate both yourself and choose the best one for yourself.